Spring Move-In 2023: January 22-24
We are so excited to see new and returning Terps! Get ready for move-in by reviewing the information below and on our Before Move-In page.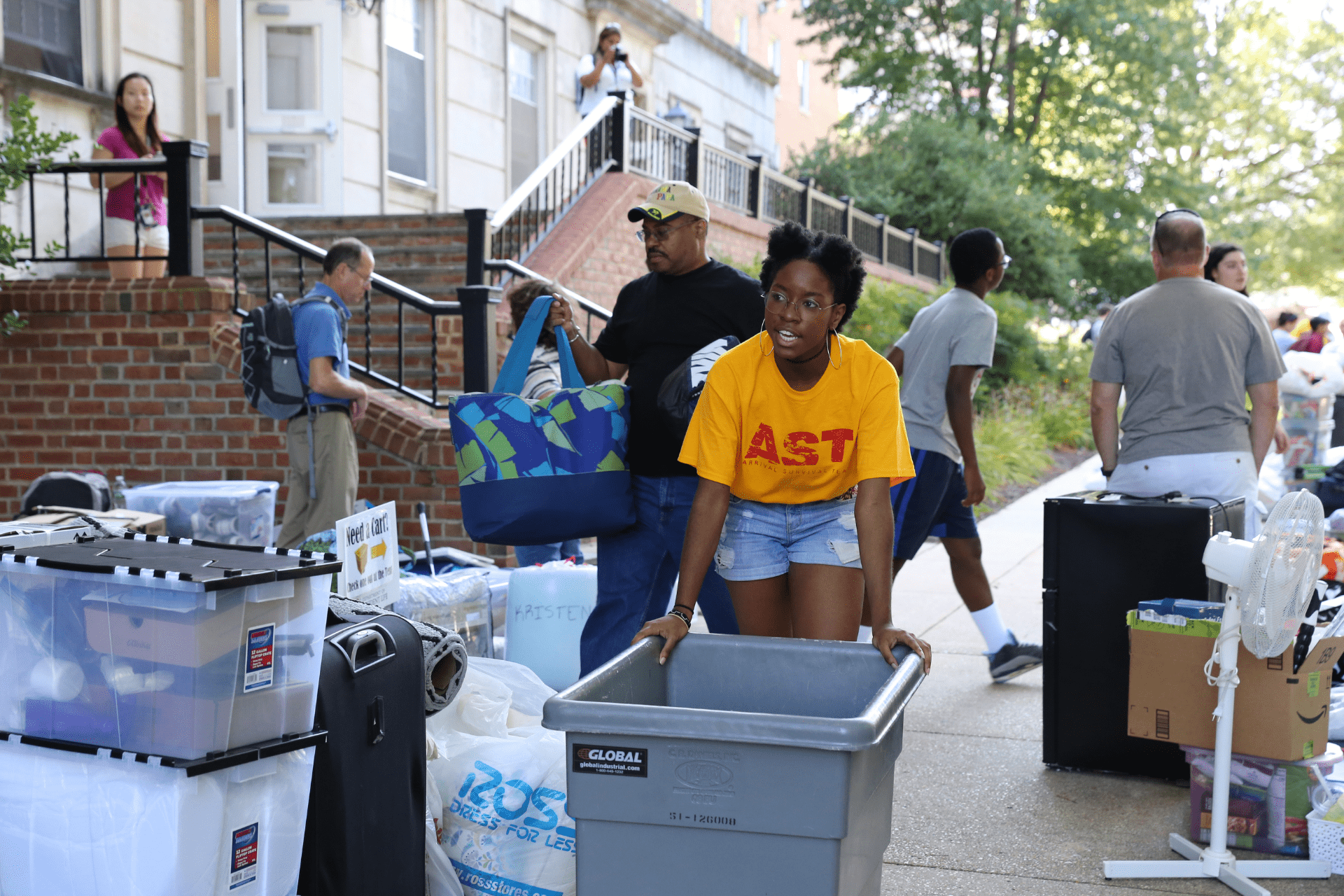 During move-in, you'll need your University ID card to access the residence halls as doors remain locked for the safety of all residents.
We will have temporary access swipe cards available at the service desk if needed. New residents will visit their residence hall service desk to check in and retrieve their room keys.
We recommend that you bring another person to help with unloading and parking, as well as a hand truck/dolly to move your belongings.
Campus Road Closures & L

ong-Term Traffic Pattern Changes
During spring move-in on Sunday, January 22, please be aware of road closures and major long-term traffic pattern changes for the spring semester.
The "M" traffic circle at the intersection of Campus and Regents Drives will be reconfigured and may be seen by viewing the following map. 

View M Circle reconfiguration map

(pdf)

Campus Drive will be one-way westbound from Union Lane (near Stamp Student Union) to Campus Drive (near the Benjamin Building) and Union Drive will be closed from Campus Drive (near the Benjamin Building) to Championship Drive (in Lots 1 and Z). Alumni Drive will remain open. 

View Campus Drive Westbound Only map

(pdf)

Pedestrian detours will be required in many places. All pedestrian detours will be ADA-compliant.

View Pedestrian Construction and Detour map

(pdf)
| All Campus Buildings | Sunday January 22 | Monday January 23 | Tuesday January 24 |
| --- | --- | --- | --- |
| New-to-Housing Students | 10:00 a.m. - 12:00 p.m. | 9:00 a.m. or after | 12:00 p.m. (Noon) Deadline to Check-in |
| Returning Students | 12:00 p.m. - 4:00 p.m. | 9:00 a.m. or after | 12:00 p.m. (Noon) Deadline to Check-in |
Steps for Checking In To Your Residence Hall
Step 1
Enter campus and drive to your check-in location.
Step 2
Check-in at your service desk. You will receive your room key(s) here.
Step 3
Head to your residence hall. Follow directional signs and instructions given by University Police and parking attendants.
Step 4
Park in the unloading zone to unload belongings at the curb. After you unload to the curb, relocate your vehicle to the FREE all-day parking lot (available Saturday and Sunday only).
Step 5
Use your University ID card to access your residence hall using the card reader at the entrance. If you have trouble accessing the building or have any questions, please call your residence hall service desk.
Step 6
Move your belongings into your room.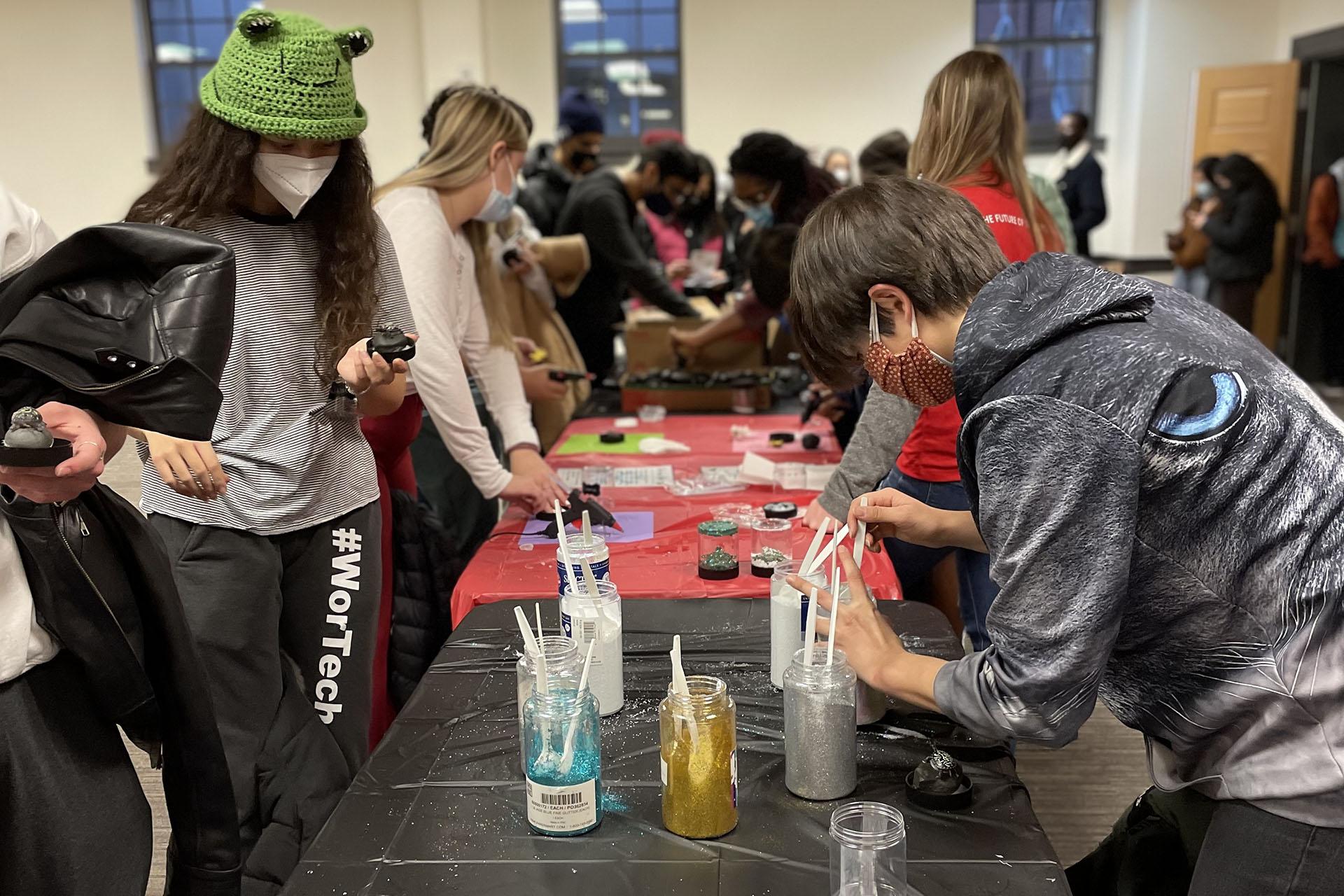 Winter Welcome
Join us for Winter Welcome featuring fun events designed to connect you with other Terps, staff, and your Resident Assistant.
Spring Room Assignments
Beginning January 13, your room assignment and your suite/apartment mate's contact information will be posted to your Housing Portal.
New-to-housing students assigned to a suite or apartment will have roommates who lived in the unit during the Fall semester. When you arrive on move-in day, you should expect to find belongings already in place in the common area. We ask our returning residents to clean the common area in preparation for new arrivals. Your room will feature a bed, dresser, desk, and closet space and will be ready for your arrival. If there are problems with room condition when you arrive, please return to your Service Desk for assistance.
Assignments for new residents are made based on space availability and in the order housing agreements were received. New residents are assigned to vacant rooms in traditional, semi-suites, suites without kitchens, and kitchen-equipped apartments.
Please Note: Once assignments have been made, no room or building changes can be made until February. Rooms for the following year will be chosen in April.
Additional Information
Move-in day can be hectic! To make everyone's move-in day a more pleasant experience, we greatly appreciate your cooperation.
University Police and Transportation Services staff will be on hand to ensure that traffic is kept moving and that you will be able to park and unload your belongings as close as possible to the front door of your residence hall.
After completing check-in activities, you may go to your residence hall unloading zone.
You and your helpers should unload belongings onto the sidewalk
One member of your party should move the vehicle to FREE all-day parking lot (available Saturday and Sunday only)
Remaining members of your party should move belongings to your room
Please note:
We have a limited number of yellow moving carts available at service desks
We encourage you to bring your own dolly/hand truck and plastic/umbrellas to cover your belongings in the event of rain or snow
Approaching Campus
Weekday rush hour traffic on Interstate 95, Route 1, and Route 193 (University Boulevard), will be heaviest from 7:00 a.m. to 9:00 a.m. and 4:30 p.m. to 6:00 p.m.
Temporary Unloading Zones
Enter campus and follow directional signs and instructions given by university police and parking attendants to drive to your residence hall. Our goal is for each vehicle to remain in the unloading zone for no more than 5 – 15 minutes to keep the move-in process traffic flowing steadily. Once your vehicle is unloaded, the driver should move your car to long-term parking.
Long Term Parking
After you've unloaded your belongings at your residence hall, please have a member of your party move your vehicle to a long-term parking lot. This will free up the unloading zones for other Terps coming behind you.
Parking lot/garage recommendations
---
Lot 2A
Stadium Drive Garage
Lot 9
Mowatt Lane Garage
Denton Hall
Easton Hall
Elkton Hall
Oakland Hall
Ellicott Hall
Hagerstown Hall
LaPlata Hall
Centreville Hall
Cumberland Hall
Bel Air Hall
Chestertown Hall
Cambridge Hall
Prince Frederick Hall
Carroll Hall
Caroline Hall
Wicomico Hall
St. Mary's Hall
Dorchester Hall
Anne Arundel Hall
Queen Anne's Hall
Somerset Hall
Worcester Hall
Montgomery Hall
Harford Hall
Frederick Hall
Charles Hall
Allegany Hall
Washington Hall
Howard Hall
Baltimore Hall
Calvert Hall
Prince George's Hall
Talbot Hall
Garrett Hall
Kent Hall
Cecil Hall
Bed Loft Rentals
A bed loft is a metal frame that supports the mattress and bed supplied by the University and provides space beneath the mattress for furniture. More information is available, and rental agreements can be initiated, by visiting the Collegiate Marketing, Inc. bed loft website.
All triple rooms are furnished with a bunk bed, and a metal bed loft with a safety rail. The lofted bed in triples is provided by Residential Facilities at no charge to residents.
Online Pre Ordering
Online pre-ordering of bed lofts is now available. Bedloft will complete installations of bedlofts ordered for the spring semester by making an appointment directly with the student customer after their move in.
Standard twin bed frames and twin mattresses provided by Residential Facilities fit onto the top of bed lofts rented from this vendor. The bed loft is tall enough that the dresser and desk provided by the University can be placed beneath the mattress, thus increasing the amount of floor space available in the room.
This vendor's bed lofts can be utilized in all University student residences, with the exception of the following locations:
All bedrooms in Oakland, Prince Frederick, and Pyon-Chen Halls
Courtyards and South Campus Commons apartments
Students in Triple and Quad bedrooms may not pre-order a bed loft, as the standard furniture package for triple rooms includes 2 bunked beds and 1 lofted bed, and Quad rooms have 2 sets of bunked beds. If students in triple or quad rooms wish to rent an additional bed loft for their room, they may order a bed loft from the vendor upon move in.
Bed lofts brought into University residence halls may be obtained solely from this one vendor. This vendor's product has been reviewed and confirmed to meet safety criteria specified by Residential Facilities. As a rule, all other lofts, partitions, and structures of any type are prohibited and may not be brought into or constructed within the residence halls.
Refrigerator Rentals
Refrigerator-freezer units are available for rental to residents of all University residence halls. Due to electrical limitations in most of the residence halls, MicroFridge® combination units are only available for rental to residents of the following halls:
Cambridge Hall
Oakland Hall
Prince Frederick Hall
Pyon-Chen Hall
Queen Anne's Hall
Additional information and rental agreements may be initiated by visiting the MyFridgeRental.com website.
Residents who place orders for the spring semester will be contacted directly by My Fridge Rental to arrange an appointment time directly with the student for the delivery of the unit to their room after their move in. It is not necessary to know the building or room to which you have been assigned in order to complete a rental agreement.
Remember to share your mailing address and phone number with family and friends.
Mail should be addressed to you in the following manner below.
Student Name
University of Maryland
Room number, Name of Residence Hall
Street Address
College Park, Maryland 20742
To find your mailing address, please visit the Mail & Packages page.