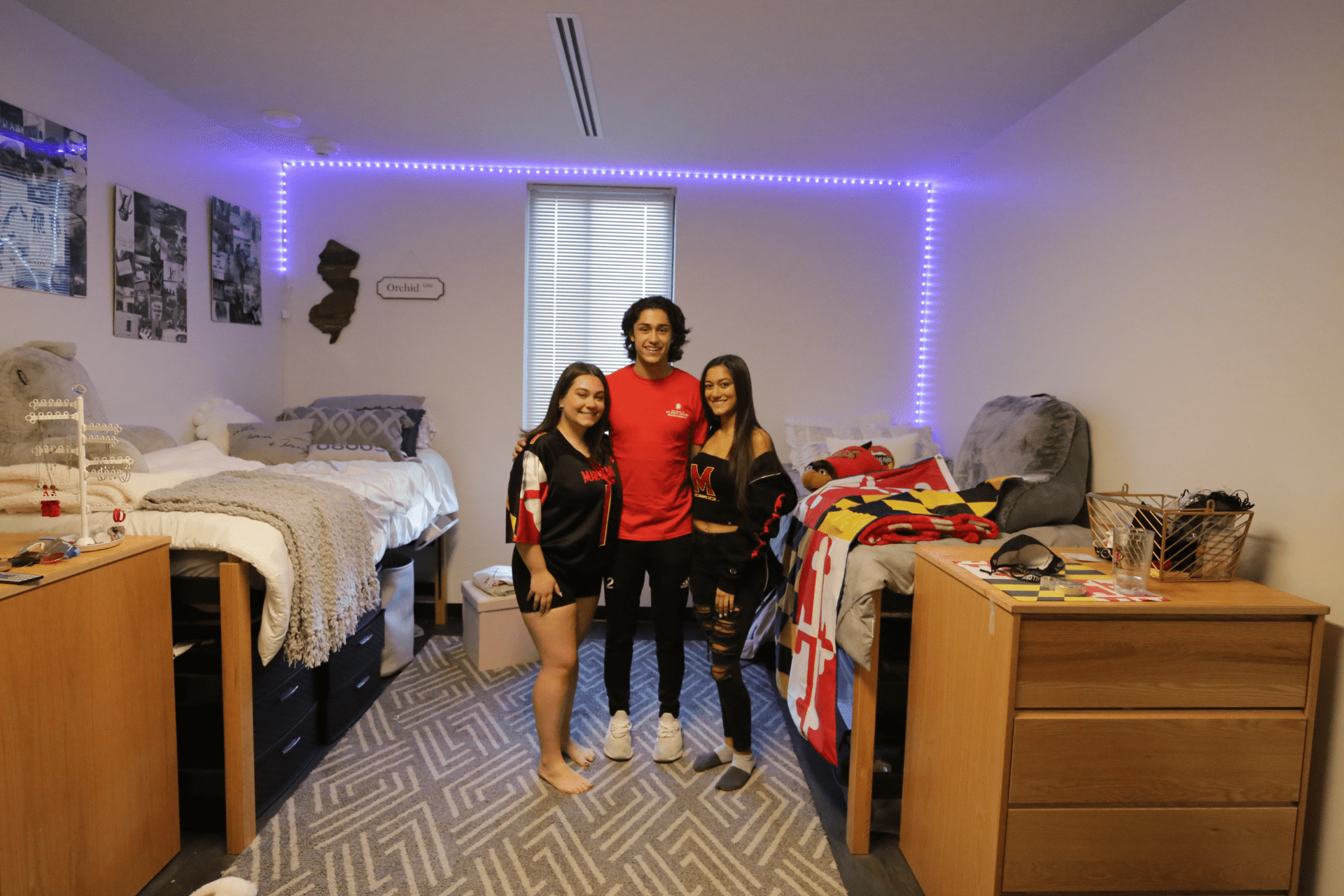 Residence Hall living is filled with opportunities to meet new friends, engage in the community, and live within steps of everything on campus. Your residence hall room is your "home away from home."
Before you move in, you should consider what items to bring, what to expect from roommate relationships, and how you might decorate your room. We invite you to explore the resources offered here and get ready for this exciting next chapter in your life.
Roommate Relationships Tips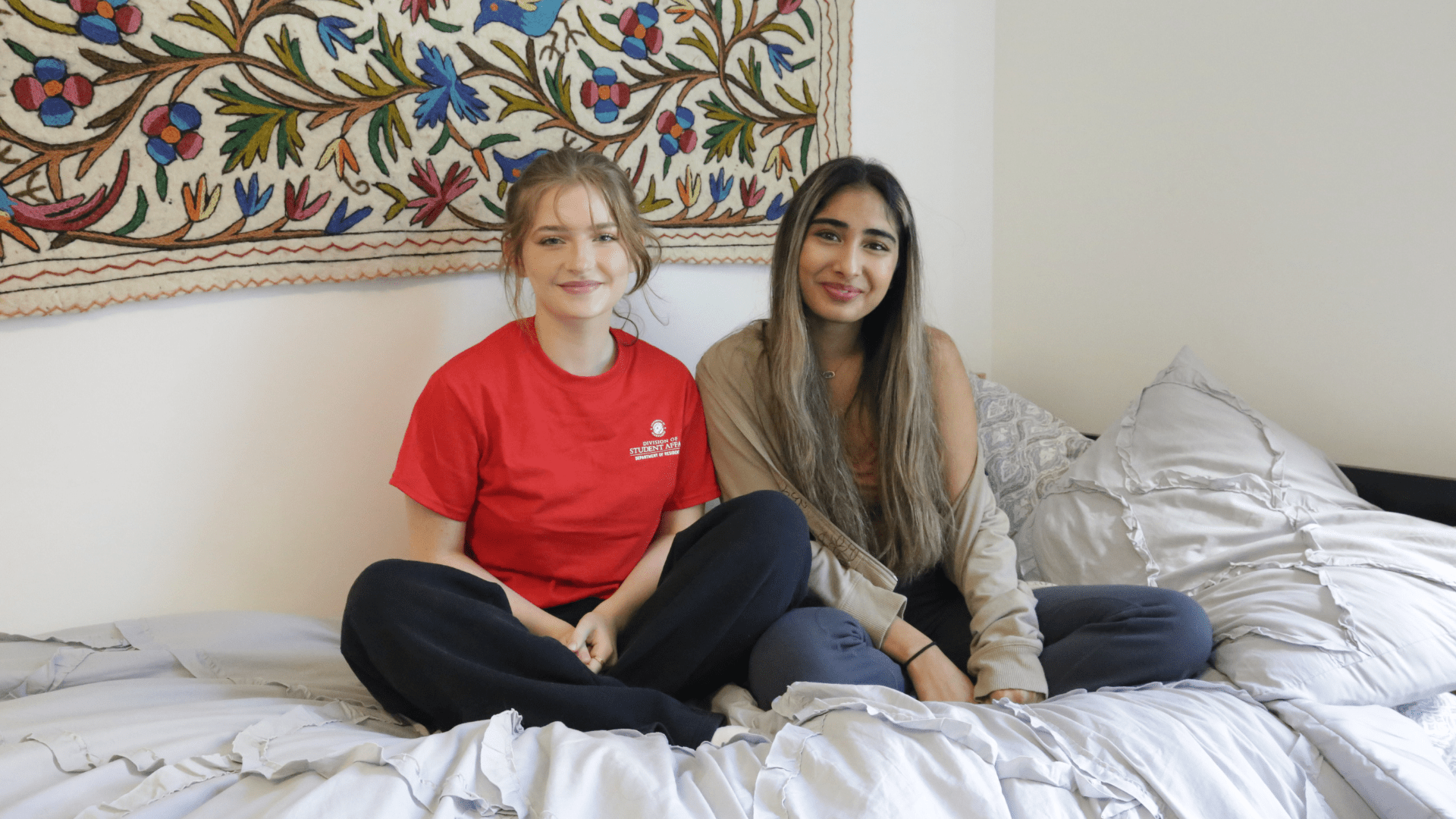 Your college roommate isn't someone you simply share space with - they can have a meaningful impact on your college experience. The best way to have a good roommate is to be a good roommate.
Learn how to create a healthy roommate relationship with tips we call the "4 C's" of campus living. 
Meet Before Move-In

Reach out to meet up or FaceTime. Connecting before move-in can help you feel more comfortable with each other.

Learn more about one another - hobbies, interests, study habits, and living together. Discuss plans for organizing your new room.

Think about how you want to decorate and who will bring larger items (curtains, TV, mini fridge or mini fridge rental, etc.).
Roommate/Unit Agreement

Once you get to campus, make sure to complete your roommate/unit agreement.

This will guide you and your roommate(s) as you figure out how to share your space and develop a respectful, cooperative environment.
Respect Items & Space

Most students are new to the roommate experience.

It's important for you and your roommate(s) to set boundaries and expectations about property use or borrowing, and cleaning up your side of the room.
Communication is Key

Keep an open line of communication between you and your roommate(s). Being able to talk with your roommates about concerns or issues will enhance your roommate experience!

Familiarize yourself with one another's schedules.

Agree to some ground rules and communication about guests, upcoming exams, schedules, or travel plans. Do not let issues fester.
Resolving Roommate Disagreements

Resident Life staff are available to help you and your roommate work through any disagreements.

Your Resident Assistant (RA) is the first point of contact for student concerns. RAs provide a friendly, empathic ear and resources and are trained in mediating conflicts.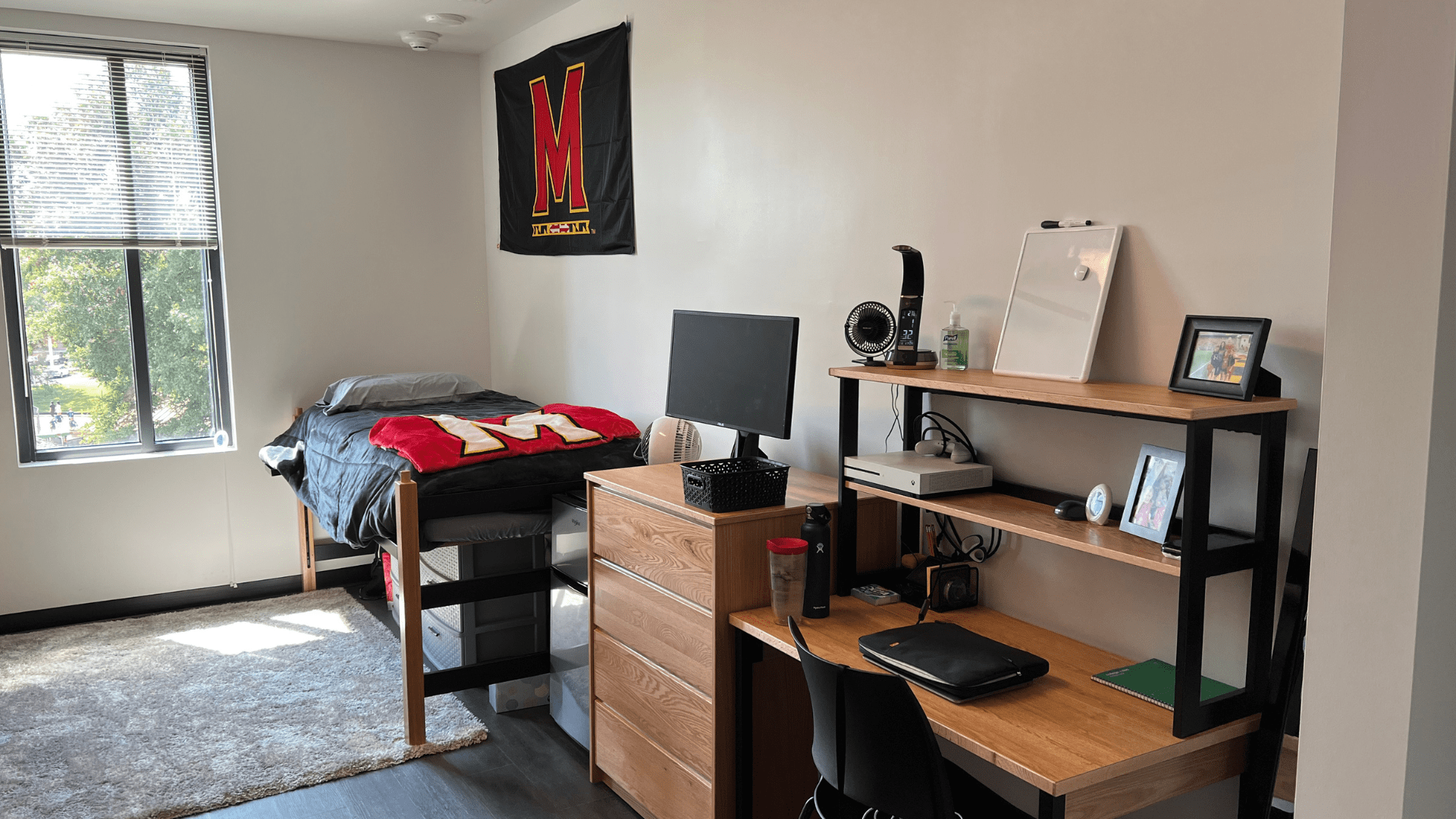 Decorating your room is one of the ways you can begin making a comfortable and home-like space for yourself.
Remember, consult with your roommate and the Residential Facilities advice below when decorating your room.
All University of Maryland rooms in residence halls are furnished with:
Twin size bed and mattress (twin XL in Pyon-Chen and Johnson-Whittle Halls)
Five-drawer dresser (except Oakland Hall and Prince Frederick Hall, which have three-drawer dressers)
Desk with drawer and shelf; desk chair
Personal data line
HD digital cable jack
Each room also has window blinds, closet space, smoke alarm, fire suppression sprinkler, and an overhead light. Storage space may be limited to the upper shelf and floor inside the closet(s) and under the bed(s).
When you arrive at your residence hall room, your furniture will be set to optimize space and airflow for the Heating and Air Conditioning Unit (HVAC) systems. If you and your roommates decide to rearrange the furniture, please keep the following points in mind:
Keep a minimum of 12" clearance or one floor tile from the HVAC units as well as the dehumidifier (if applicable) for moisture control
Keep at least 6" distance between the beds
Please note that no university furnishings may be removed from rooms or suites and apartments.
You are free to hang posters, pictures, etc., on the walls using "blue painter's tape," which is readily available at home improvement stores, or removable poster "putty."
Residents will be charged for repairing holes in walls, doors, and ceilings caused by tape, nails, tacks, or screws, as well as other damages to the rooms and university furnishings. 
For fire safety and health reasons, cooking is prohibited in all student rooms with the exception of a university approved microwave attached to the MicroFridge Smoke Sensor combination unit (available as a rental). This is why students in the residence halls are required to participate in an approved dining plan.
Permissible Appliances
Standalone microwaves are not approved. Microwaves are approved in dorm rooms only as part of the MicroFridge Smoke Sensor combination appliance unit (available as a rental).
Air popcorn poppers and hot water pots which have enclosed heating elements and bear the UL seal. These items should not be used in student rooms, only in a designated cooking area inside floor lounges.

Most buildings have hallway kitchenettes or floor lounges that are equipped with a microwave, stove, sink, disposal, instant hot water tap, and refrigerator (varies by building) that are adequate for cooking or cleaning utensils.
Small Refrigerators
Small refrigerators are permitted in student rooms and available as a rental from MyFridgeRental.com. They must meet these safety specifications:
3.6 cubic foot maximum
1.5 normal operating amps
120 volts, 60 cycle AC
Grounding type, 3-prong electric plug and 3-wire cord
Underwriters Laboratory (UL) Seal of Approval
Energy Star rated models preferred
Data
Each resident has a personal high speed data line. The residence halls also have 100% wireless internet coverage. Learn more about connecting to the campus network.
Xfinity Stream
All residence hall students have free access to XFINITY Stream. Visit the Xfinity On Campus website and use your University credentials to login and learn more.
Telephone
Each bedroom has telephone capabilities, including voicemail and unlimited campus calling. Residents have to request telephone and voicemail activation via the Division of IT website.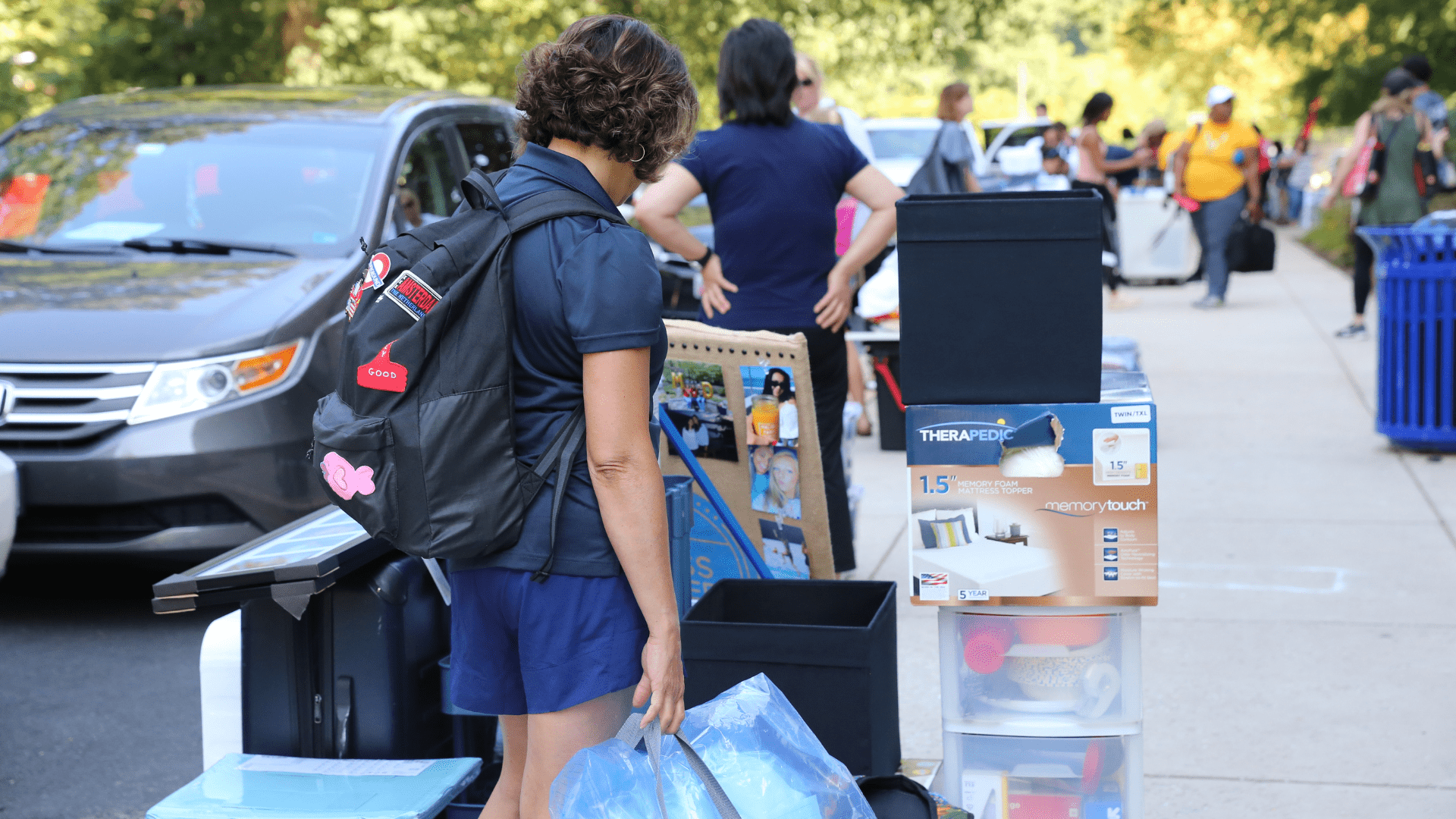 We recommend packing light and only bringing the essential items you need. You will have closet space and storage under your bed to keep things organized.
If you are sharing the space with a roommate, talk to them in advance of your arrival about possibly coordinating the purchase or rental of appliances and other shared items. 
Comforter, blanket, pillows, pillowcases
Twin-size sheets and mattress cover (36" x 75" x 6" mattress)
Mattress pad
Under-the-bed storage boxes (10" clearance)
Bed risers
Soap, toiletries, toothbrush, toothpaste
Towels, washcloths
Shower tote bucket / or hanging shower tote
Shower shoes
Robe
Laundry bag
Detergent / softener
Drying rack
Clothes hangers
Refrigerator (see safety specifications above or rental options)
Fan
Alarm clock
Smart television
Carpet or area rug (recommended size is 6'x9')
Full length mirror
Desk/floor lamp
2 waste bins 

(one for trash, one for recycling)

Handheld vacuum
Masks
Flashlight, battery-powered radio, extra batteries, emergency Kit
First aid kit
Touch-tone phone (voicemail is provided)
Cleaning supplies (preferably "green")
Alcohol wipes
Snacks
Command strips
Blue painter's tape
Lock for laptop
Non-damaging wall fasteners for hanging items (blue painter's tape and poster putty recommended)
Tapestries, flags, posters
Succulent plants
UL/CSA approved power outlet strip with integrated circuit breaker (consider "smart power strip" to save energy)
Laptop and category 5 ethernet cable, no longer than 14 feet
Lock for laptop
Backpack (consider waterproof options)
Notebooks / pens / pencils
Desk organizer
Desk lamp (consider CFL or LED bulbs; no halogen bulbs, no lamps with gooseneck arms and plastic shades)
Dry erase board
Reusable water bottle
Reusable mug/cup, straw, plate, fork, and spoon
Reusable shopping bag(s)
Hammock
Raincoat /umbrella
Hand truck
Packing bags / bins
Patience, positive energy, great attitudes
QAM-ready television and 15- to 20-foot cable (HD digital service in residence halls)
Small appliances (UL/CSA approved, ENERGY STAR certified models preferred)

Small refrigerator rental or purchase (3.6 cubic foot maximum, ENERGY STAR certified)
Air cleaner or air ionizer with UL Seal
Keurig hot drink dispensers (consider purchasing a reusable K-cup filter)

Window fan and room fans
Touch-tone phone with standard plug, line cord (voicemail is provided)
Carpet remnant or rug (the recommended size is 6'x9')
Curtain (if desired, windows have installed blinds)
Cleaning supplies (preferably "green")
Dustbuster/vacuum
Waste bins
Memo/dry erase board for your room door
---
Extension cords of any type
Boxes, trunks, suitcases, etc., except what fits under your portion of bed (10" clearance) or closet
Clothing that must be hung in the closet that exceeds 2'-3' width
Excessive or bulky winter clothing and gear (keep in mind that you have limited closet space and some time before you will need those items)
Extra seating or other furniture
Excessive amounts of clothing, books, posters, and personal effects
Cinder blocks
Lamps with gooseneck arms and plastic shades
Disposable water bottles
Air-fryers (unless assigned to an apartment that has a kitchen and areas set up for cooking)
Bed risers with outlets
Extra-tall bed risers
Extension cords
Alcoholic beverages (if under age 21)
Illegal drugs (grounds for dismissal), drug paraphernalia
Candles (lighted), incense, fireworks, weapons.
Electric skillets, hot plates, or any appliance with open or exposed heating element or coil
Toaster, toaster oven, skillet, crock pot, etc.
Halogen bulbs
Pets
Private air conditioner, space heater
Masking or cellophane tape, nails, or other products that damage paint/wall surfaces
Partitions, room dividers, and other structures
Microwaves (permitted only as part of a MicroFridge Smoke Sensor – available as a rental)
Vendor Information
We work with Collegiate Marketing, Inc. and MyFridgeRental.com to provide bed loft and refrigerator rentals to residence hall students. 
A bed loft is a metal frame that supports the mattress and bed supplied by the University and provides space beneath the mattress for furniture. All triple rooms are furnished with a bunk bed, and a metal bed loft with a safety rail provided by Residential Facilities at no charge to residents.
Additional information and rental agreements may be initiated by visiting the Bed Loft website.
Multiple fridge rental unit types are available for rental to residents of all University residence halls. MyFridgeRental.com offers both the Fridge/Freezer Combo, as well as the MicroFridge Unit (Fridge/Freezer/Microwave all in one) for all residence halls.
The MicroFridge Smoke Sensor unit is the only approved use of a microwave in any individual residence hall dorm room.
Additional information and rental agreements may be initiated by visiting the MyFridgeRental.com website.