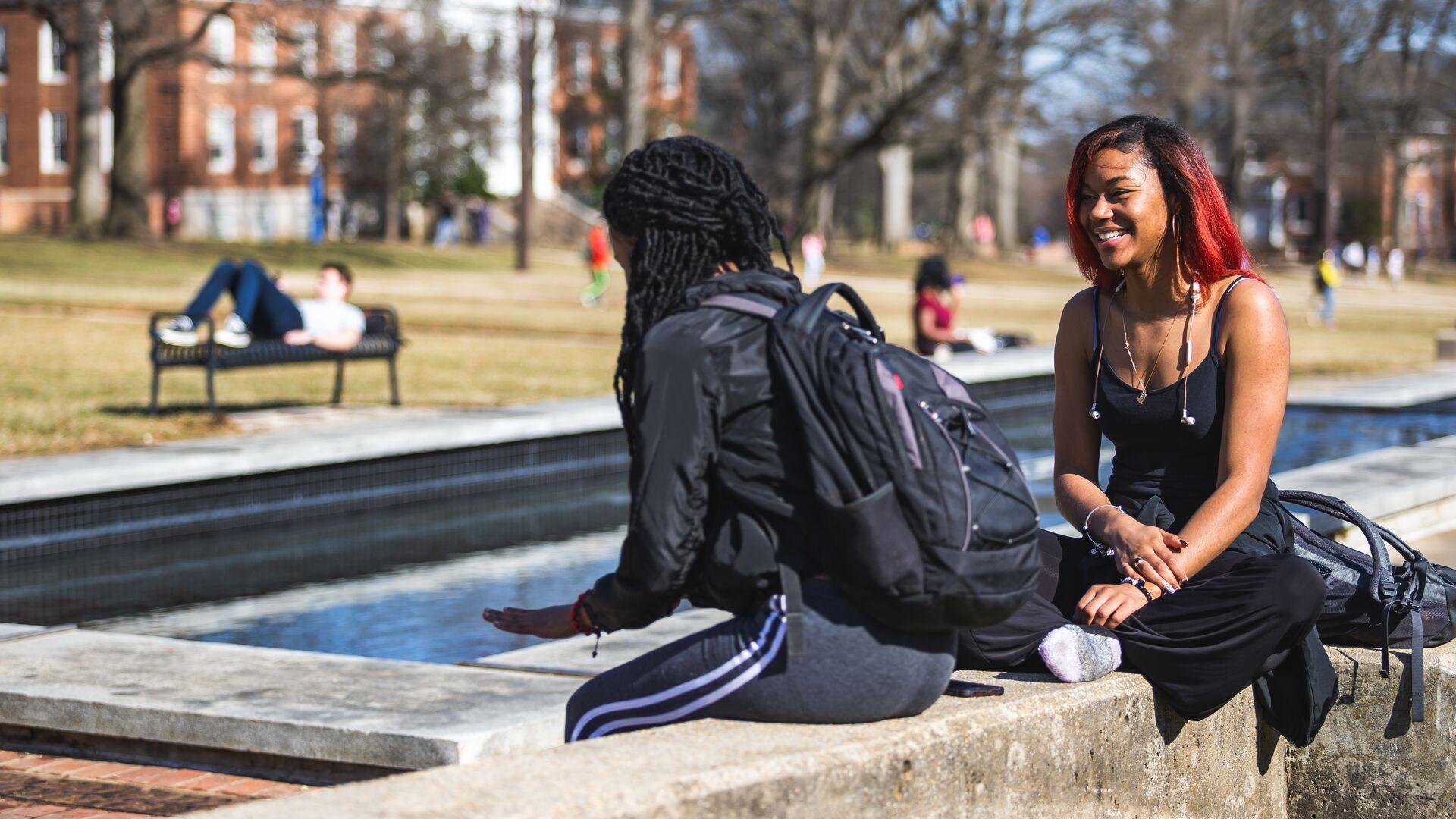 Live Here
Congratulations on your admission to the University of Maryland!
We're excited to welcome you to the residence hall community. Join the Maryland Residential Experience, a once-in-a-lifetime opportunity to fully immerse in the Terrapin community and be within steps of everything you need for a successful transition to college life.
How it works
Step 1: Submit your online Residence Hall Housing & Dining Agreement
You must submit your online application to be eligible for residence hall housing. You can access the application through your Housing Portal. You will need to verify your personal and emergency contact information and agree to the agreement's terms and conditions.
You can view the virtual tours of our residence hall options.
Step 3: View your assignment and contact your roommate
You will receive your room assignment and roommate information beginning mid-January. We encourage you to reach out to your roommate to get to know one another before move-in.
Check out the list of items to bring and the Winter Welcome events schedule to get ready to jumpstart your semester!
Step 5: Move in and attend Winter Welcome events
Check-in, meet your RA, and participate in Winter Welcome to kick off your Maryland Residential Experience.
January
February
March
Spring housing assignments released for new residents
Residence Hall move-in and Winter Welcome program
2024-2025 Residence Hall Housing and Dining Agreement due
Room Selection begins – Returning residents select housing assignments for next year
Agreement instructions
You can login to your Housing Portal to access your Housing Agreement. If you've already started filling out an application, this allows you to return to that agreement.
Complete or verify your contact information.
By providing your preferred name, we will use this information when communicating with you electronically and in person. Please only use your preferred given name in this field.
For example, if your name is Julian Smith, but you go by Jules, please list your preferred name as "Jules" in this field, NOT "Jules Smith."
Pursuant to Maryland law, the university may make inquiries into and consider information about a student's criminal history for certain purposes, including making decisions regarding access to campus residency.
You are responsible for notifying the university of any considerations for a disability, chronic health condition, or other medical or personal issue(s) that have a bearing on your residence hall housing assignment. The Accessibility and Disability Service office determines eligibility. To begin the accommodations request process, visit the ADS portal.
All residents must initially select a dining plan in order to submit this agreement. Students assigned to a kitchen-equipped apartment are may cancel their dining plan via the Dining Services website.
Choose your preferred option regarding the genders on your floor or building.
Gender inclusive housing
All students are eligible to participate in gender-inclusive housing, but you must opt-in to the program. All of our residence halls are mixed-gender living environments except for one hall. On your housing application, you will need to select "Yes, I am interested in participating in gender-inclusive housing." You will then receive an email with information about roommate matching.
This roommate option allows you to apply to housing spaces without regard to gender. It is focused on creating an inclusive, safe, and supportive environment where students can live together regardless of sex, gender identity, and/or gender expression.
Consider your preference to live near Hillel Dining or in a substance-free environment, have limited female visitation, and/or live in a triple or quad room with lower room rates.
Roommate agreement
We have created a roommate agreement that includes topics to help roommates and suite/apartmentmates better understand each other's needs, beliefs and expectations. The roommate agreement is a guideline for a respectful and fun living environment. You will complete the plan together and review it with your RA.
You may opt-in to text message notifications to include a one-time text message as well as two-way texting or chatting.
This section allows you to provide information regarding your gender, pronouns, and T-shirt size. Providing this information is optional.
This final section allows you the opportunity to review Agreement terms regarding living in the residence halls at the University of Maryland.
---
View the Terms & Conditions
Rates & Fees
We offer a differentiated rate structure based on style, room type, and amenities, making housing costs more equitable and affordable for students and families. The rates reflect the academic year (9.5 months) with all-inclusive pricing (laundry, utilities, phone, wireless, and high-speed internet connection).
On-campus students can enroll in the Terp Payment Plan to spread payments for tuition, room, and dining plans in manageable monthly installments for the semester.